Photo by Kelly Stern
Well crap. Now I'm the one that's got dem ol' Kosmic Blues again mamma. Maybe it's just being tired. Maybe it's a wierd situation with the fam that I can't explain to myself. Maybe I just need to get the hell out of my studio more and do things. Who knows, who cares, why bother :)

Guess it isn't really all that bad but I have to tell you work is just a great big bitch this week. Waking up so late on Monday didn't help, and now it's almost Friday and I'm off to see Superman tomorrow night with D & H and then there's a baby shower this weekend as well. Yes, yes, I know...babyshow and men don't mix but hey, I was invited and I said I'd make an appearance for a little while. Just seems that this week is so frightfully dull.

(did I mention I become very British at times?)

But, there is also the prospect of spending some quality time with my beloved PS2. But even that sounds rather boring to some degree.

I can't believe it's almost July and I haven't figured out what's going to happen on the 4th. I suppose I should call my mum, but I don't want to. Everytime I call I get the guilt trip action times 20. She's good at it and will probably say something akin to

"Well when you don't hear from someone like I haven't heard from you"

and I'll wind up feeling like shit and then realize after the call why I don't call her. Am I the only one that doesn't get along with his own blood relations? Shit. How did I go from 4th of July to whiny? Good lord I think I need to eat the Quizno's I just picked up.

I did, however, see that a second of my gladioli is going to bloom soon. It's going to be

purple

which is one of my fav colors. Yeah, me and Miss Shug Avery hehe. It's the little things though. Wandering in after work and realizing that there could be a major splay of color waiting for me. Ya just gotta love flowers to some degree. These were the first ones to come into bloom for me.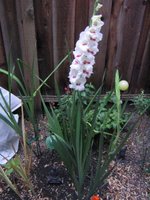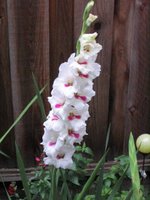 And I don't think I have posted a more dull, dry, and boring post in a while. Maybe this weekend I'll get around to writing up my exploits during the Pride weekend and post parts of them. I have a feeling it's going to have to be a multi-post because there's a lot in my head which equates to a lot of writing.

So, I think I may change things up a bit here. Little different color scheme. Try and get my blogroll under control and to my likings. Hell, I may even put up a new picture of moi. One never knows, do one?

Twenty-three days and counting. And i hope that this one is better than I expect it to be.

Be safe. Be happy. Be PROUD. Be Loved!